Linthescher Apotheke
Lintheschergasse
For over 30 years, the Lintheschergasse pharmacy has been situated very centrally in the heart of the city of Zurich, embedded in the pedestrian zone between the Globus and Jelmoli department stores, only a few minutes' walk from the main railway station.
Contact
Linthescher Apotheke
Serviceleistungen
Blood pressure measurement
Unhealthy diet, stress, overweight and smoking are among the risk factors for high blood pressure. By regularly measuring your blood pressure, you can react early on.
Required time
ca. 10-15 Min
Registration
no advanced notification needed
Burgerstein Microcare
Tailor-made micronutrient mixtures for prevention and therapy. With the aim of enabling tailor-made supplementation, Burgerstein has developed the innovative Burgerstein Microcare concept, drawing on 40 years of experience.
We will put together a personal micronutrient mixture tailored to your needs.
Delivery service
We supply medical practices, hospitals and clinics in the city of Zurich with our express delivery service.
Delivery within 24 hours (Same day delivery)
Refrigerated transport
Morning after pill
The risk of becoming pregnant after a contraceptive failure is usually 5.5 percent. However, it can be reduced to as little as 0.9% by taking the morning-after pill. In order to achieve the greatest effect, the pill should be taken as soon as possible, but at the latest after 5 days.
Price
CHF 20.– (excl. morning-after pill)
Required time
10 – 15 Min.
Regristration
no advanced notification needed
Rotpunkt customer card
Your loyalty will be rewarded. With the Rotpunkt customer card you collect valuable bonus points when you shop. Unfortunately, we cannot grant you bonus points on prescription and cash register medication.
As soon as your points account has a balance of 1000 points, the bonus amount of CHF 10.00 will be paid to you in cash.
Apply for a customer card at your next visit.
STU Card
Those who have a STU-Card benefit from various discounts at the Victoria Pharmacy Zurich:
20% all year round on 3- and 6-month packs of the contraceptive pill
20 % on condoms
15 % on the whole VICHY range
10 % on the whole range of our pharmacy
Travel advice from A - Z
We advise you from a medical point of view about your next long-distance journey and prepare a personal travel dossier with the latest recommendations regarding vaccinations or malaria prophylaxis for your travel destination.
Below you will find a selection of medicines for the therapy or prophylaxis of travel complaints.
Zeitaufwand
ca. 30 Minuten
Anmeldung
Am besten mit kurzer Voranmeldung
Wound Care
In the case of an acute or chronic wound, it is important to avoid infection and unsightly scarring. Professional wound care guarantees effective, lasting wound healing. The important thing is: the faster, the better.
Price
CHF 10 – 15.– (depending on the effort)
Required time
10 – 20 Min.
Registration
without advance notice
Our brands
In our pharmacy on Lintheschergasse, we offer you a wide range of selected brand products that we have trusted for many years. We stock items from the following brands, among others:
Das Team vor Ort
Our multilingual team is continuously educating itself and is always up to date with the latest scientific developments. Through our cooperation with leading clinics as well as with pharmacies at home and abroad, we are familiar with the latest therapy methods.
Kathrin Schiltknecht
Store manager, Pharmacist
Daniela Keller
Pharmacist
Sheila Schuler-Cina
Pharmacist
Sara Alit
Pharma-Assistentin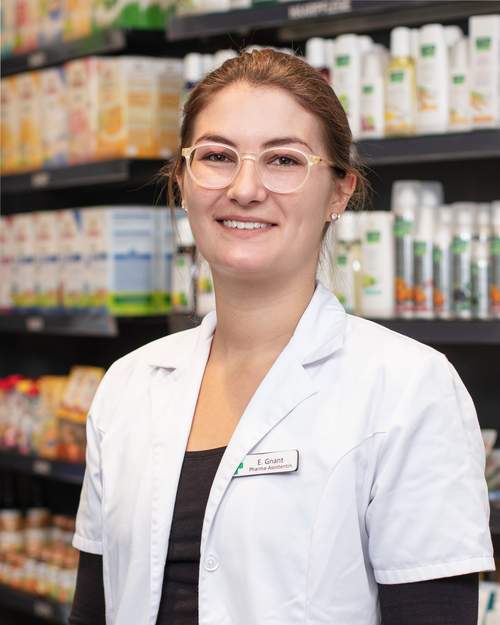 Eva Gnant
Pharmaceutical assistant
Eveline Schmid
Pharmaceutical assistant
Diana Baumann
Pharmaceutical assistant
Melissa Demirsoy
Pharma-Assistentin
Jasmin Thurnherr
Pharmaceutical assistant
Maitika Corbisieri
Cleaning
Rotpunkt Promotions
Benefit from our monthly promotions with 20% discount on proven brand products. Compare now and save money with your next purchase.
Similasan trockene Augen
Trockene Augen
Similasan Augentropfen können bei Sandgefühl in den Augen, trockenen, gereizten oder tränenden Augen angewendet werden.
z.B. Monodosen, 20 Stk.
CHF 16.65
Promotion valid until 30. September 2023
Zeller Schlaf Forte
Sleep disorder?
Helps with sleep problems.
Filmtabletten, 30 Stk.
CHF 20.00
Promotion valid until 30. September 2023
Rausch Shampoo 200ml
Beautiful hair?
For healthy, strong and beautiful hair.
e.g. Swiss Herbs CARE SHAMPOO
CHF 13.20
Promotion valid until 30. September 2023
We take care of your health
As a Rotpunkt pharmacy, we stand for attractive savings offers, a wide selection, diverse services and personal, competent advice.